Hey Guys! I have decided to re-do my blog to have a fresh new look. I love it now!! I still want to add some things but I will do that as I figure them out so keep checking back. I have made a button so please grab that and display it on your page for me. I will look at all of yours and grab yours too if I haven't already. Thanks guys!!
Here are some photos of Jackson being such a silly boy the other night. I let him start feeding himself and lets just say he hasn't mastered that one yet! :) He was eating yogurt and I walked over to the couch to get something and came back and he had the bowl dumped all over his head. Little ham.
Thats it for today guys. Have a great day!! I am going to link to

Kara's Whassup Wednesday

! Also, if you guys haven't checked out my etsy store be sure to take a look.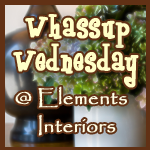 Debbie is having a Scentsy giveaway go check it out!!
~Allyson~